How to Take HP Lubricants Distributorship in India
Selection Criteria for HP Lubricants Distributorship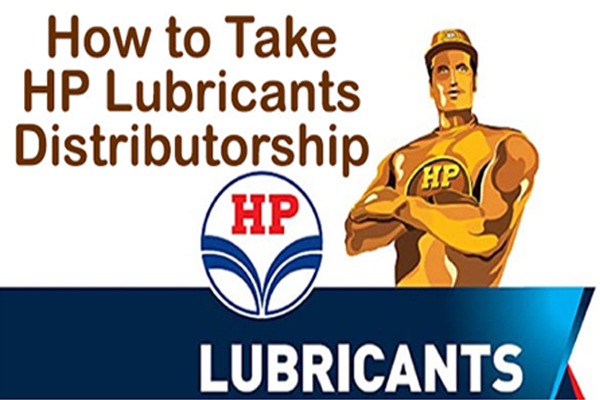 HP Lubricants Distributorship offers an amazing opportunity to earn assured monthly profits. And getting the distributorship is not easy. In the present article, I intend to write about the requirements, cost, earning potential and application process. Available distributorships are advertised time to time in local as well as national newspapers. I will also discuss how much investment is needed for making the deal.And, you will also know about the documents and licenses you must submit.
Hindustan Petroleum Corporation Limited (HPCL) manufactures and supplies HP lubricants through distributors and dealers. The leading public company makes many lubricants and specialty products. Moreover, you must have observed that it is the largest marketer of lubricants in India. The leading lubricant maker has numerous industrial plants located in multiple states in India. It manufactures over 360 grades of lubricants, specialty chemicals and greases in their hi-tech plants.
There are many applications of their products in various sectors of the industry. Surprisingly, you will find that applications are extensive. No matter whether the industry is mining, construction, industrial, automotive, defense or railways, you will discover that all of them use some product from HP lubricants. On grabbing their distributorship, you will find a loyal base of customers. And, the company offers impressive profit margin for their distributors.
HPCL Company Overview
HPCL is one of the top ranking companies manufacturing and distributing oils, which meet various industrial requirements. Applications include metal cutting, sprayoils, rubber process oils and numerous others. HP lubricants has established market leadership in providing comprehensive solutions in many industries. Distributors or marketers represent the company to the public.
No denying, the company is dependent on them for generating sales and marketing the wide range of lubricants. Moreover, they are also responsible for driving new innovations at HPCL as they provide crucial cues on the changing needs of customers.
Advantages of Becoming an HP Lubricant Distributor
Get an opportunity to tap into the benefits of huge brand
Access to numerous facilities provided by the HPCL Company
Benefit from HPCL expertise and customer base
HPCL offers amazing technical and sales support
Comprehensive online and offline training
Become part of nationwide network
While I am discussing different aspects of getting the distributorship, you might be wondering about my expertise and qualifications. After completing B.Tech (Mechanical), I got excellent placement with one of the trusted oxygen gas manufacturing plant companies. I worked for 7 years in the company learning everything about creating distributorships. Thereafter, I left the job and got selected as an engineer in one of the largest oil companies in India.
Here, I served for over 25 years in different roles handling various departments. Rising through the ranks, I became general manager. My long stint gave me the solid understanding how this sector works. Then, I took voluntary pre-mature retirement to start my career as an Independent consultant to offer my expertise to the budding entrepreneurs. Since working as a consultant, I have helped many businessmen launch their business successfully.
Selection Criteria for HP Lubricants Distributorship
All Indian citizens can apply for getting HPCL distributorship. And, the applicant can be an individual, a partnership firm, a limited company (public or private).Selection criteria is explained below:
Applicants must have attained the age of 21 years
Minimum 10th pass
Experience in handling distribution of lubricants, FMGC products, etc.
Skills in managing sales and ability to generate queries
Technical knowledge of lubricant products
No criminal records
Preference for qualified professionals
Applicants should have capability of managing sales force, ability to generate leads, selling skills, technical competence, etc.
Applicant should not have any criminal record
Candidates who have their own Lubricants or Greases manufacturing facility are not eligible to apply
Applicable for Individual / Proprietorship firm Applicants
Indian by Nationality
Not less than 21 years and not more than 60 years of age as on the 1st day of the month of advertisement
Minimum pass in Matriculation / SSC or recognized equivalent
Preference for qualified professionals
HP Lubricants Distributorship Requirements
Must have Space (Shop/store) in good locality
Capacity for investing the required amount
Required equipment
Vehicle for transportation (Tempos / Trucks)
Must have required staff
Facilities & Staff Needed for Operating Distributorship
Applicants should have covered storage space measuring minimum 500 sq. ft. The space can either self-owned, rented or leased. If the applicant is owner of the space, he must submit the necessary documents.
If the space is owned by a family member, the NOC from the family member holding the title of the land. After selection you will be required to submit the same land ownership documents. If the space is leased or rented, the agreement should be for a minimum of five years. And, you need to submit a copy of registered agreement.
Computers
Broadband internet
Printer
Telephone
Two Tempos / Trucks
Printer
Telephone
Two Tempos / Trucks for locations from all states except locations
3-4 Salesmen for applicants
1-2 Office Staff
1-2 Loading Persons
Required Investment for Distributorship
Depending upon the location, HPCL has set investment slab for the distributorship. Actually, prime or urban location enjoy more demand so they need more investment. Broadly, the investment is between 25 lakh to 50 lakh. However, the applicant must produce documents to prove their financial capability. Documents can include liquid funds Savings /Current Account / FD/RD/ Matured PF account (PPF/EPF).
In the final selection process, HPCL will make an assessment of applicants on the basis of their educational qualifications, personality, professional experience, and ability to arrange finances. After the assessment, the successful applicants will get a letter of intent (LOI) from HPCL subject to the verification of all original documents submitted with the application for getting the distributorship. The applicants will make security deposit of Rs 2.0 lakh through DD payable to HPCL.